Horizon

I consider space as a conjunction between virtual fields and a palpable environment. There are particles, geodesics, and forces. Our senses distort reality. What can I see, or cannot? Beyond the horizon I do not know. Two fabrics charge themsleves with electricity, magnetism. They attract each other, and generate sparks. In 'Horizon', dance is an energy that travels through the body and expands beyond it.
Through variations of amplitudes, movements evolve from a micro-motion of the body to a wide transformation. The music plays with frequencies and volumes. Sounding waves and curved bodies reveal mixed spaces. The body as a barometer shows the invisible.

Score.

choreography: Emilie Gallier.
dance: Christelle Dronne, Mélissa Lézin, Anne-Laure Pecot, Chloé Thétiot.
music: Daniele Ghisi.
drum: Hélène Colombotti.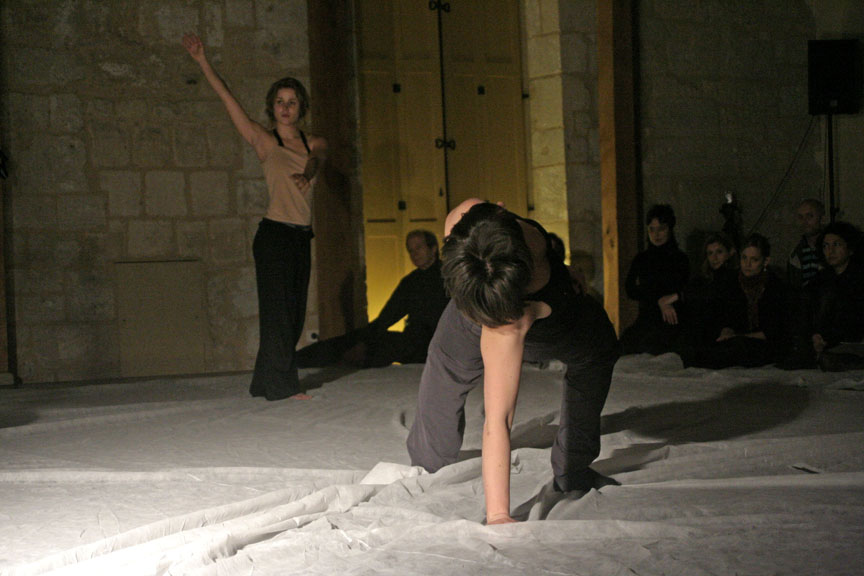 28 Feb. 2009 PRCC Royaumont
20 Dec. 2008 PRCC Royaumont
2 Nov. 2008 PRCC Royaumont